Krakow, 2021/09/30 – JPEmbedded, smart grid communication solutions provider, announces that it has joined the STMicroelectronics Partner Program to make its software libraries available to all ST customers.
JPEmbedded provides products and services to seamlessly design and implement Intelligent Electronic Devices.
The software libraries IEC 61850 library, DNP3 library, ICCP/TASE.2 library, and IEC 60870-5-10X libraries offered by JPEmbedded feature low memory footprint and high configurability in terms of functionality and resources used. They are easy to integrate, and independent of operating system. That places them as a natural first choice for the OEM's looking for the communication libraries for the embedded STM32 platforms.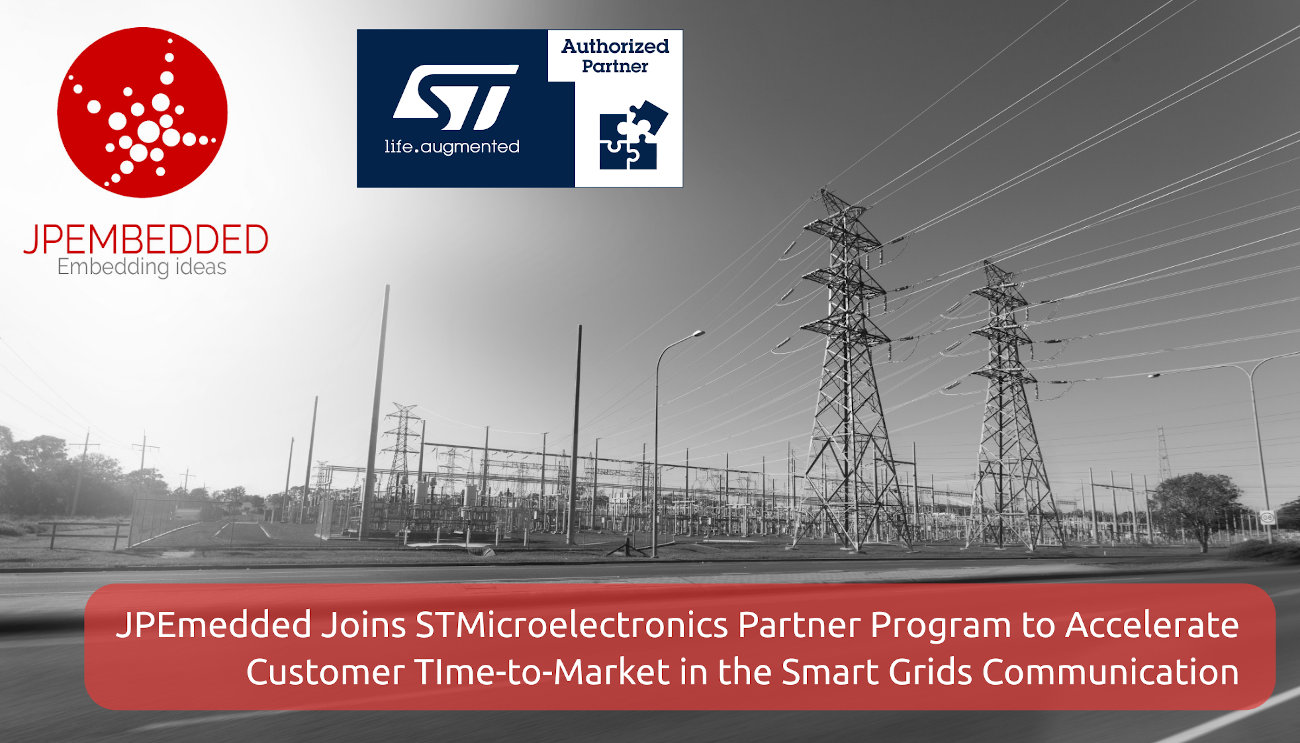 In addition to libraries implementing above-mentioned industry standards, JPEmbedded offers a suite of user applications which allow OEMs to generate SCL files or configure the IEDs running the protocols.
"We've been working on ST products for many years, and we are very satisfied joining the ST Partner Program now" said Maciej Gasienica Sales Director at JPEmbedded. "The energy transition drives change for power systems, electricity grids, and markets to enable a lower-carbon future. To meet tomorrow's energy needs grid has to be smart, interconnected, and based on a mix of different technologies for generation, transmission, and distribution. Digitalization of the grid and reliable, secure communication between all devices is the key. Offering a wide range of software stacks, protocol converters as well as extensive experience in the cybersecurity area we are fulfilling market needs and driving our society to a greener future".
"The ST Partner Program is a high-value offering that has exceeded the expectations of our Customers and Partners helping customers' design teams access strong supplemental skills, tools, and resources that meet design time-to-market challenges across the full ecosystem of products and services while easily integrating ST devices in their projects," said Alessandro Maloberti, Partner Ecosystem Director, STMicroelectronics. "By selecting, qualifying, and certifying ST Authorized Partners, customers know that the partners they engage have the expertise to accelerate their design and development activities and ensure they ship the most robust and efficient products and services to market."
STMicroelectronics, a global semiconductor leader serving customers across the spectrum of electronics applications created the ST Partner Program to speed customer development efforts by identifying and highlighting to them companies with complementary products and services. Moreover, the program's certification process assures that all partners are periodically vetted for quality and competence. For more information, please visit JPEmbdded's profile at ST.com